Today is, apparently, National Elder Abuse Day. I don't know about you but I think that's probably a very badly worded national day. I phoned my parents to abuse them but unfortunately they were out.
Anyone can apply to their government or to the United Nations to have their special day recognised and providing it's not hateful or racist requests are rarely turned down. This has led to a whole raft of bizarre and wacky special days.
Here for your delight and delectation are some real special days
January
Had enough of the coffee machine breaking down? Maybe you've had enough of your neighbour mowing his lawn every Sunday morning. Well January 7th is for you. It's National 'I'm Not Going to Take It Anymore' Day
February:
Stuck in a romantic rut? Just know that he's going to spend Valentine's Day down the pub with his footie mates while you sit at home crying into your low fat/low calorie/low taste hot chocolate. Well get rid of the lowlife on 7th February. It's National 'Dump your Significant Jerk' Day.
March:
Scientists have pondered this for centuries. It's that question that we've all asked ourselves. Well on 3rd March, celebrate! It's National What if Cats and Dogs had Opposable Thumbs Day
April:
Fed up with trying to decide what to wear? Waistband pinching a bit? Or do you just want to have a duvet day but the boardroom beckons? Well, 16th July is National 'Wear Your Pyamas to Work' Day. Wear your PJs with pride!
May:
This brings a national day that is particularly close to my heart. It's National Lost Sock Memorial Day. A day when we all recognise the fact that we have a favourite sock which has lost it's life partner. We wait, we hope, we check down the back of the tumble dryer for the hundredth time but they are gone. On this day, May 9th, we can finally say goodbye. We acknowledge that the sock is lost forever and we throw it's surviving partner in the bin. It's hard but it's necessary...
June:
Does the mere mention of a 'take your son or daughter to work day' bring you out in hives? Do you cringe at the thought of introducing the fruit of your loin to your work colleagues? Don't worry because June 26th is National Please Take My Children to Work Day. You offload your offspring onto some other poor sucker and they get the glory!
July:
You know how it is. You put them in a pot on the windowsill, give them a bit of water once in a while, maybe even a little snifter of Baby Bio but do you ever think about how they feel? I mean really how they feel? Stuck on the window ledge, same old, same old, day in and day out. Don't you often wonder if they are bored? Whether they might like a change of scenery? Well 26th July is their day. It's National Take your Houseplant for a Walk Day. The world over, houseplant lovers will be taking to the streets with their plants, sharing plant care tips, maybe even a bit of clandestine cross pollination. So go on, take your yukka for a yomp, take your aspidistra for an amble. You know you want to.
August:
It's hot and sunny, everything in the garden is blooming but down in the vegetable patch there is an apocalyse in waiting. Why on earth did you plant 10 courgette plants? You've grilled and roasted, you've made soup and muffins and even put some in the freezer but still they just keep coming. They may say that in the UK you are never more than 3 feet from a rat but in August it would be true to say you are rarely more than 3 feet from a courgette, in fact, from lots of courgettes. So make use of August 8th. It's National Sneak a Courgette onto your Neighour's Porch Day. If you wake up to an EU mountain of courgettes on your doorstep you'll know why
September:
On September 19th it's time to splice the mainbrace, put on an eyepatch and get in touch with your inner Jack Sparrow for National Talk Like a Pirate Day. Ahoy me hearties, yo ho ho and a bottle of rum and all that
October:
Who knows what evil lurks there. It's time to be afraid, be very afraid. On 30th October gather round your friends, keep close and open the door.... very..... very carefully. Who knows what ghosts you'll find in the salad crisper on National Haunted Refrigerator Night. Is that The Blob in there? Nah, it's just the remains of the last courgette from National Sneak a Courgette onto your Neighbour's Porch day, godammit!
November:
For November's national day I've hunted high and low until the cows come home. So let's not beat about the bush, at the end of the day it all boils down to this - November 3rd - National Cliche Day. Honest, I'm not yanking your chain. I wouldn't pull your leg about something so serious. You know me, as honest as the day is long.
December:
And finally we arrive at December, the last month of the year. And this particular national day takes place on the last day of the year. It's National No Interruptions Day.
But......
I said NO interruptions!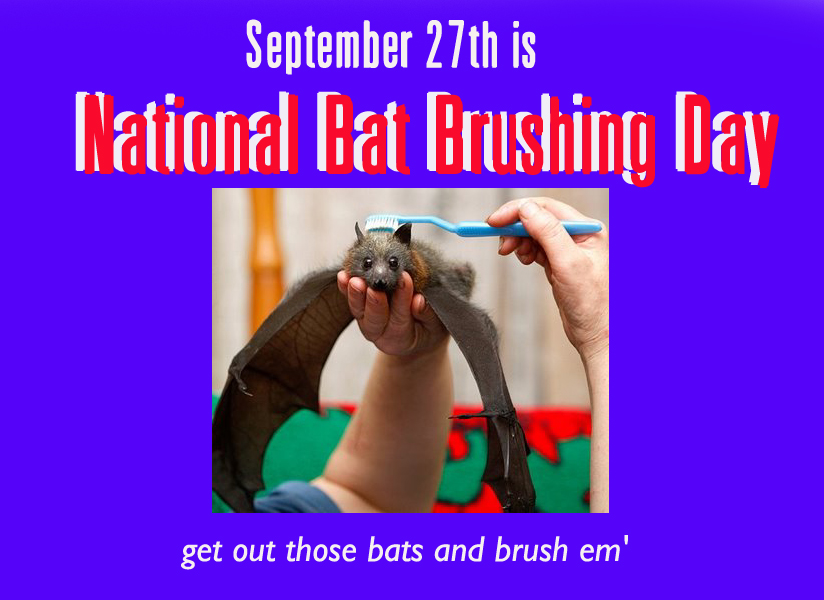 Oh yes, it really exists!